No that isn't actually me, but it is how I feel a little. A bit pouty. I did NOT meet lil Zoey today....yes sad indeed. TOTALLY understandable though. My sisters got to talk to Weezie herself, today. Weezie gave birth Saturday and apparently has had people visiting since she got home. Saturday was 4 days ago...just 4 days people. She popped an 8 pounder out 4 days ago and has had MANY visitors already. She was doing fine with that until more people showed up last night to visit, and I mean night time. And that apparently was the straw that broke the camel's back. She feels so overwhelmed and weepy now. She was weepy on the phone when she explained to my sisters she was just too overwhelmed with everything. She asked if we would come next week. And if she didn't call about Monday, to call her, since she is stubborn. You see, Zak goes back to work on Monday. I am sure her Mom will be there, but it will be a huge adjustment for Weezie. And I am not sure what she means by "next week", like if we are talking more than one day of going over, but if she wants company and help all week, I am there for my Weeze and my lil Zoey!

So yeah, I am sad I didn't meet Zoey, because I am excited to get to know her and have her get to know me. But I totally understand. Weezie is being overwhelmed, so people if you can hear me through space and time, back off a little! Let the woman breathe. And Weezie is a rock, she tries to not let herself get worked up over anything, even though she is SO allowed to, especially just having given birth, but she tries to be calm and stuff at all times. Apologizes if she gets weepy! So for her to admit to feeling this way, is huge. So that means it has been building up inside of her, so I hope she gets some rest and de-stress time. Her Mom is kind of living there, but I am not sure if Weezie minds her around, she has given the parents time to nap which is good, as I hear that is rare with a newborn. I just hope, should we call up Sunday and ask if she wants us over Monday to help, she answers honestly, and I DO hope, I admit, she says yes get over here and meet my baby! Because I was so excited, I kept waking up every half hour and looking at the clock! That usually happens when we are going somewhere the next day, like Florida or a day trip, or like during the Holidays, so you see how giddy I am to meet this sweet baby. And apparently someone said she was kinda ugly the first day, but is getting cuter now, which made me laugh so hard! Maybe her face was just squished in and now things are like...popping back out into their natural shape? I don't know, but I can't wait to see for myself!

Anyway, since I was so in that frame of mind, I could NOT go back to sleep so I ran errands. Went to Target, Blockbuster, Sally's Beauty Supplies, Walmart, the movies with my Dad and sisters, and back to Walmart to finish the shopping as I had to stop to go see the movie and all done and back before NCIS started! Wooo. I wanted a Coke Icee from Target really bad! Everytime I have been there since before Christmas the light was either on for Coke flavor or the machine was down!! So I was like YES, when I saw it. Plus some new underwear...what?...TMI? Then I went and rented Fame, Post-Grad and a drama called The Girl in the Park, with Sigourney, Kate Bosworth and Keri Russel. Here is the synopsis from IMDB: "Enduringly traumatized by the disappearance of her 3-year-old daughter 15 years ago, Julia Sandburg has cut herself off from anyone once near and dear to her, including her husband Doug and her son Chris, who tried for years to penetrate her wall of isolation and despair, without success. But when Julia meets Louise, a troubled young woman with a checkered past, all Julia's old psychic wounds painfully resurface, as does her illogical and increasingly irrational hope that Louise may be the daughter she lost so long ago."

I am 18 minutes in, so far...BORING. I also rented The Gate which I couldn't believe I found, I have never seen it, and it is like old, but I saw it for sale during Halloween at Walmart and have wanted to see it since! Stephen Dorff like 7 years old! The worker was like, when did we get THIS?! Score! Plus I got Final Destination 3...I require it for reasons I shall not say, and some cutesy Nickelodeon musical movie. It said makers of High School Musical and Tammin Sursok, so I caved. Those 3 were free with my New Releases though, so, yay.

Then I went and spent some serious time at Sally's picking out a new red product to try in my hair, to see if I can get that same color... I am hopeful...again, but hopefully with good reason this time. Here is a swatch from online, though the sample at the store looked much more like my color: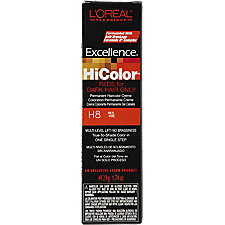 Then my Dad called and I had 30 minutes to decide if I could make it to see The Princess and the Frog. I wasn't IN Sally's yet and had Walmart to do. So I had one item in my cart at Walmart and called him and he convinced me to stop and he would go with me after the movie. So I saw The Princess and the Frog. It was cute. I LOVE real animation, Disney's especially. But the music was disappointing. You kind of expect Disney films to now to have amazing songs in them, but this...well it just didn't. That was what was lacking for sure.

Dad and I managed to fill the tank and get the shopping done in like 38 minutes. AND get home. God timing too as I was going hypo-glcemic. So it was a full day of errands, and man...the movie is still boring...this cast is WOW, so I hope it gets better!

P.S. I am totally on Team CONAN by the way, NBC, you SUCK!!!