Okay I DON'T feel like this today, even with the bit of trouble I had sleeping last night, I only got a solid 7 hours and I need SO much more to feel normalish and am still trying to catch up, but the fact that I slept after all that time, makes me feel like I am NOT squished roadkill today!!

There is a big Nor'Easter over CT today, started around 3, and is supposed to keep through the night and not stop until around noon. 8 inches some guys say, a foot others say. So far, not near a foot, but it has 8 hours to go. Gina, Katies' BFF from Bellydance, and who I adore, was over until midnight. They spent a lot of time looking at bellydance costumes online, etc. But then Gina got to talking about something I have joked to Katie about too, although I too, was kinda serious. Katie belongs on What Not to Wear. She insists on wearing coats that were mine or Sam's when we were BIGGER, so on her size 10/12 body she looks ridiculous. So Gina did it...at our house...and I let her put my name on it too. Now I feel awful and guilty, but Katie has been entered into the What Not to Wear shuffle. IF she actually got picked, I would SOOOO go to her closet and steal the nice clothes out so they didn't get rid of the good stuff. Stacey hates stuff that has spandex or stretchy fabric, I LOVE it and it looks good on Kate so I will so hide stuff. And lie if asked, I shall feel no guilt. They may give you 5k, but they make you shop at PRICEY stores and some of the stuff she has was pricey or not hers to begin with. SO THERE TLC! It would be so weird if she got picked though. Oy. Katie read Gina's entry email she wrote and it was funny (the what she tends to wear parts) but so sweet too, she just showcased all of Katie's great friend qualities, it was so sweet!

And guess what? I swear she will just bring it back and then I will go all withdrawl-ey again. Sam bought another Nintendo DS. This time she bought just the Mario game (if you take the 37 she spent the first time she bought it, subtract the 12 that she got back for it 4 hours later, and add the 35 she spent on it today, she bought that sucker for 60 bucks!) and let me play it, it is WAY harder than when Mike DID have a Gameboy, I mean the FIRST gameboy people, grey and the screen is black and grey. Mario was way easier then. It took me hours to get to World 2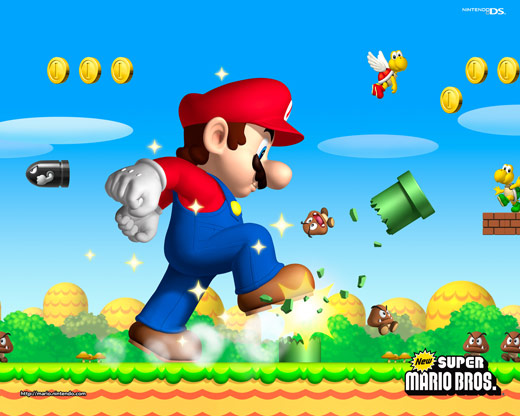 Level 5. And you can't just SAVE your game, it only lets you do that is some places, so I had to replay levels so many times and died at least 75 times along the way. I want her to try that whole for $15.95 a month you can have any game for as long as you want and send it back and get another game,etc, but she says too pricey. My brain is going, that's be like 4 Mario priced games, if she did it for a year. I NEED to find a place that rents DS games in person. Then I can RENT them myself and try out games and then....urrghh I am addicted after a few hours. She is just gonna return it again I swear and I will be all sad again. I NEED a place that I can GO to that rents!! Ayayay!

I think my body is getting used to the Lamictal better. I am up to 4 pills a day and only had 2 days of bad or no sleep, so hopefully as I progress up to 8 a day it will continue to (my body) get used to the Lamictal and stop keeping me awake. Otherwise I know I will not be able to stay on it. Up for 30+ hours at a time cannot be good for the depression and mood swings the drug is supposed to BE helping. That is why I really hope I get used to this one, I really want to see if it helps.

Ohh I just saw another commercial for My Bloody Valentine 3-D and I want to see it so bad! First, a 3-D horror movie, sounds fascinating. But the BIG draw? Jensen Ackles!! I LOVE him! We are even the same age and he is SINGLE! Wendy Ackles sounds nice dontcha think?! Ahhhh Jensen my LOVE!
You are SO hot! And that smile! I have loved Jensen forever. I watched him as Eric Brady on Days of our Lives (forever ago), I watched him as Alec on Dark Angel, and now Supernatural!! LOVE that show, and yes a HUGE part of it is HIM, why I love this show. Yes I love the concept, story lines, people, etc. but Jensen, well LOOK AT HIM. If you have nothing nice to say though, be careful, I will Defend The Jensen!:)